A small section of the customer reviews.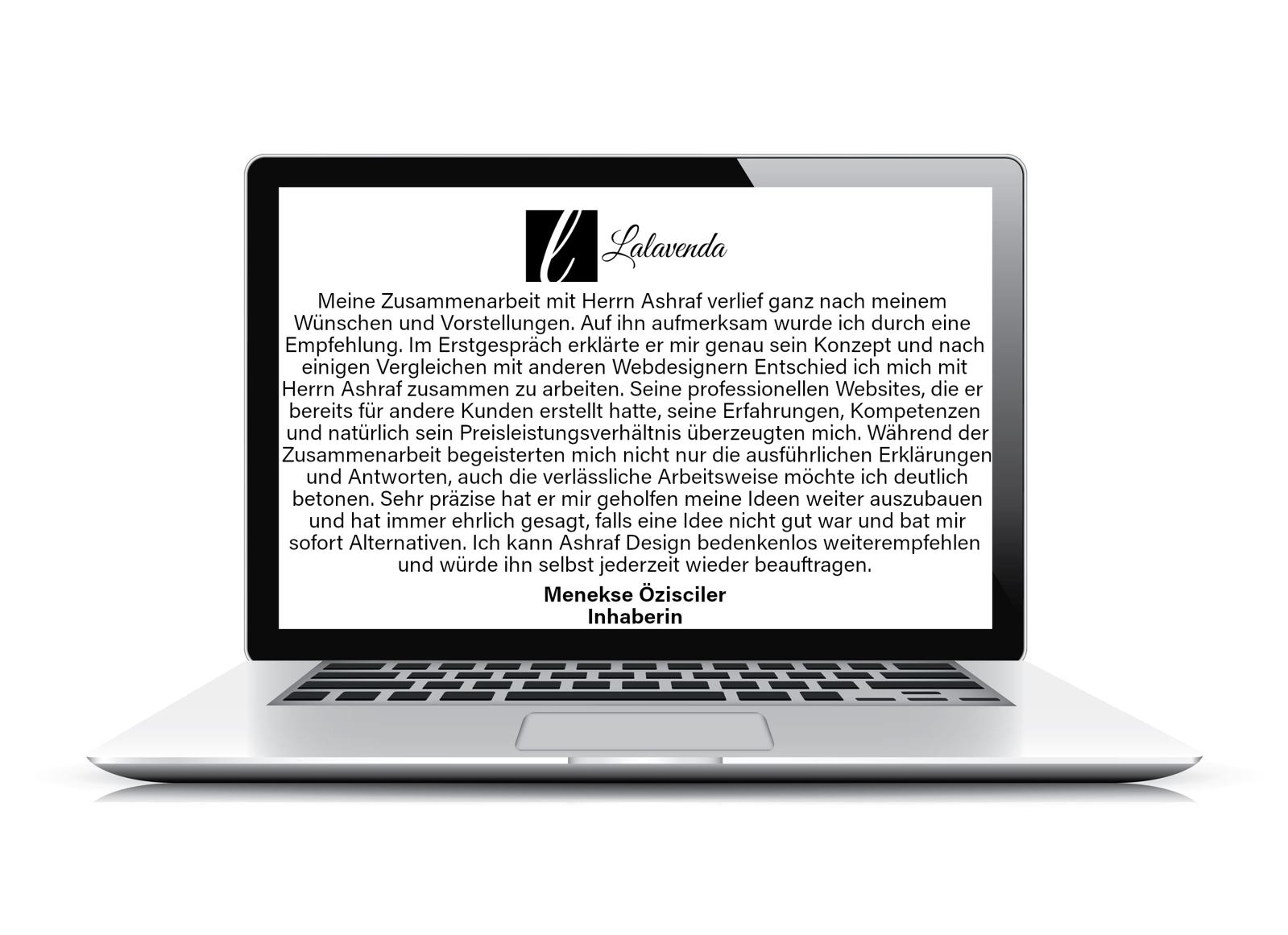 My cooperation with Mr. Ashraf was entirely according to my wishes and ideas. I became aware of him through a recommendation. In the first interview he explained to me exactly his concept and after some comparisons with other web designers I decided to work together with Mr. Ashraf. His professional websites, which he had already created for other clients, his experience, skills convinced me. During the collaboration, I was not only enthusiastic about the detailed explanations and answers, but I also want to emphasize the reliable way of working. He helped me to expand my ideas very precisely and has always said honestly, if an idea was not good and asked me immediately alternatives. I can recommend Mr. Ashraf without hesitation and would assign him again at any time.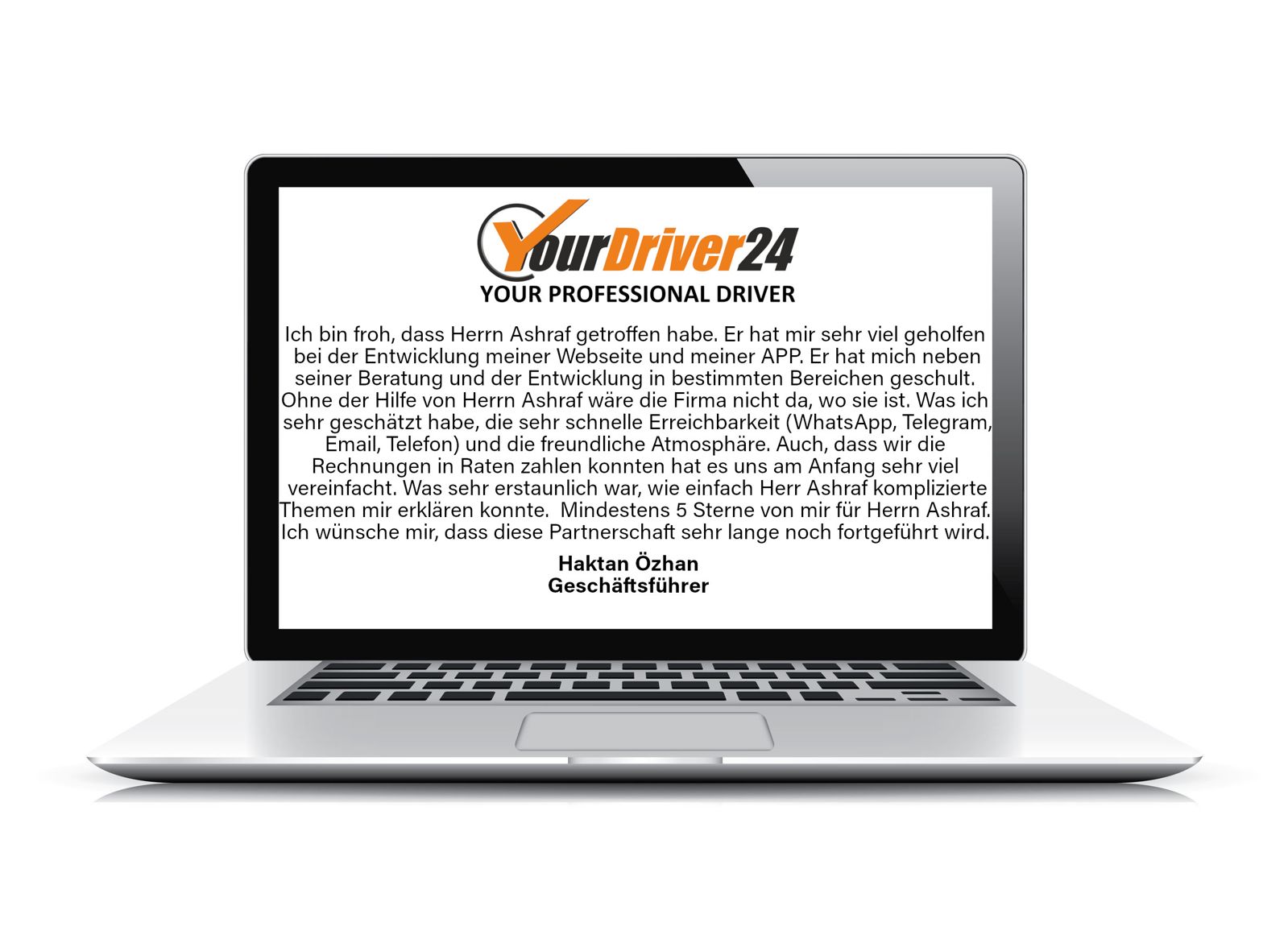 I'm glad that I met Mr Ashraf. He helped me a lot in developing my website and app. He also trained me in certain areas. Without the help of Mr. Ashraf, the company would not be where it is. What I appreciated, the very quick response (Whatsapp, telegram, email, phone) and the friendly atmosphere. Also, that we were able to pay the bills in installments. THis made it much easier for us in the beginning. What was amazing was how easily Mr. Ashraf could explain complicated issues to me. At least 5 stars from me for Mr. Ashraf. I hope that this partnership will continue for a very long time.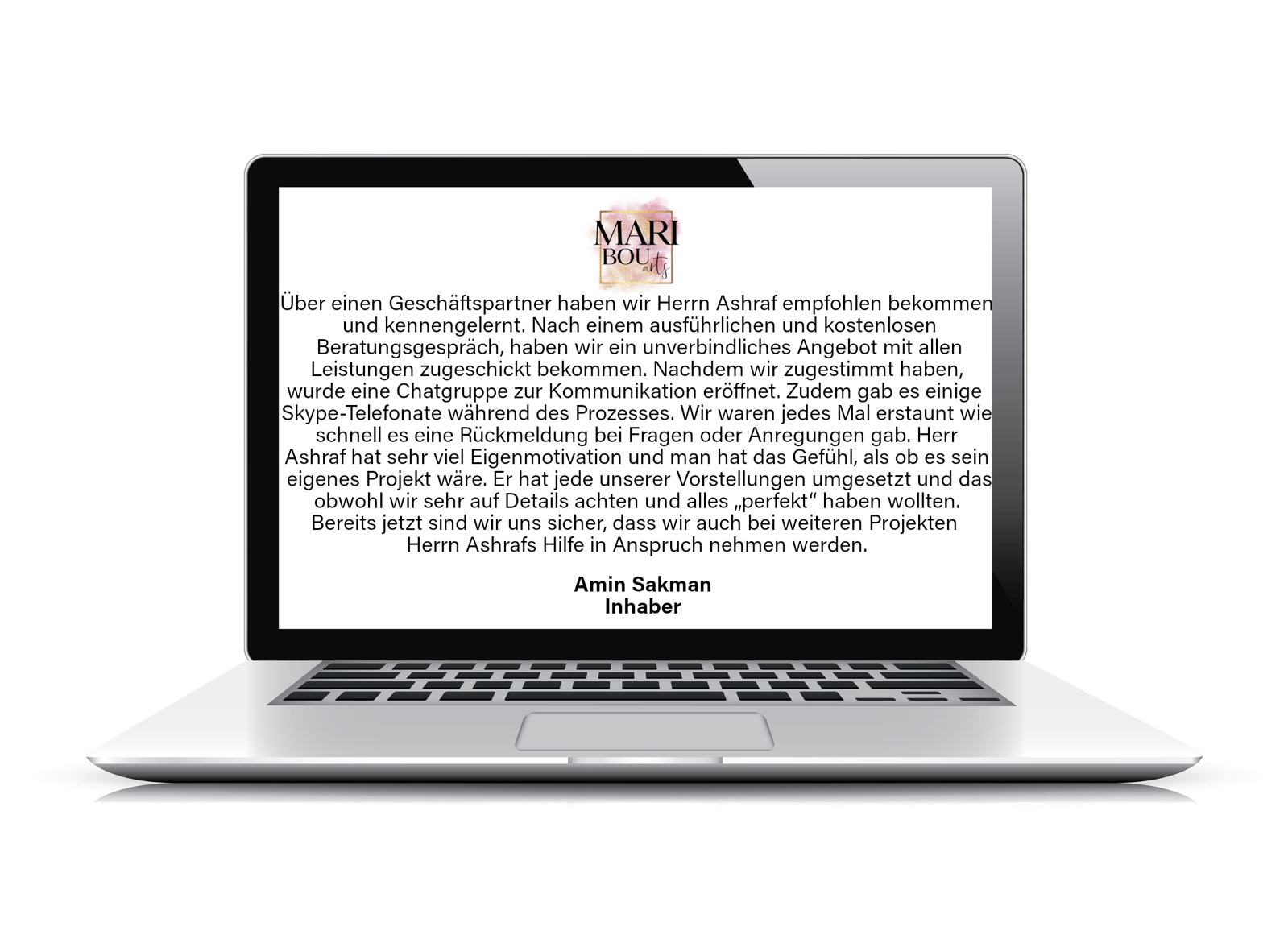 Through a business partner, we got recommended and met Mr. Ashraf. After a detailed and free consultation, we have received a non-binding offer with all services. After we agreed, a chat group was opened for communication. There were also some Skype calls during the process. We were always amazed how quickly there was a response to any questions or suggestions. Mr. Ashraf has a lot of self-motivation and it feels like it's his own project. He has implemented each of our ideas, even though we pay close attention to details and want to have everything "perfect". We are already certain that we will also call on Mr Ashraf's help in further projects.
Mr. Ashraf has extensive, detailed and always up-to-date expertise in his area of application and was able to familiarize himself with his area of responsibility in the quickest possible way. Mr. Ashraf always showed great initiative and convinced by his independence in the handling of all tasks. We have come to know Mr. Ashraf as an enduring and exceptionally resilient employee who masters all tasks confidently and always to the utmost satisfaction, even under the most difficult working conditions. Organizational and communication skills, as well as sovereign demeanor distinguished Mr Ashraf as well as his extremely conscientious and swift manner of working. Because of his open and friendly manner, Mr. Ashraf was able to integrate into the organization in no time. His behavior supervisors, colleagues as well as colleagues was always cooperative and always impeccable.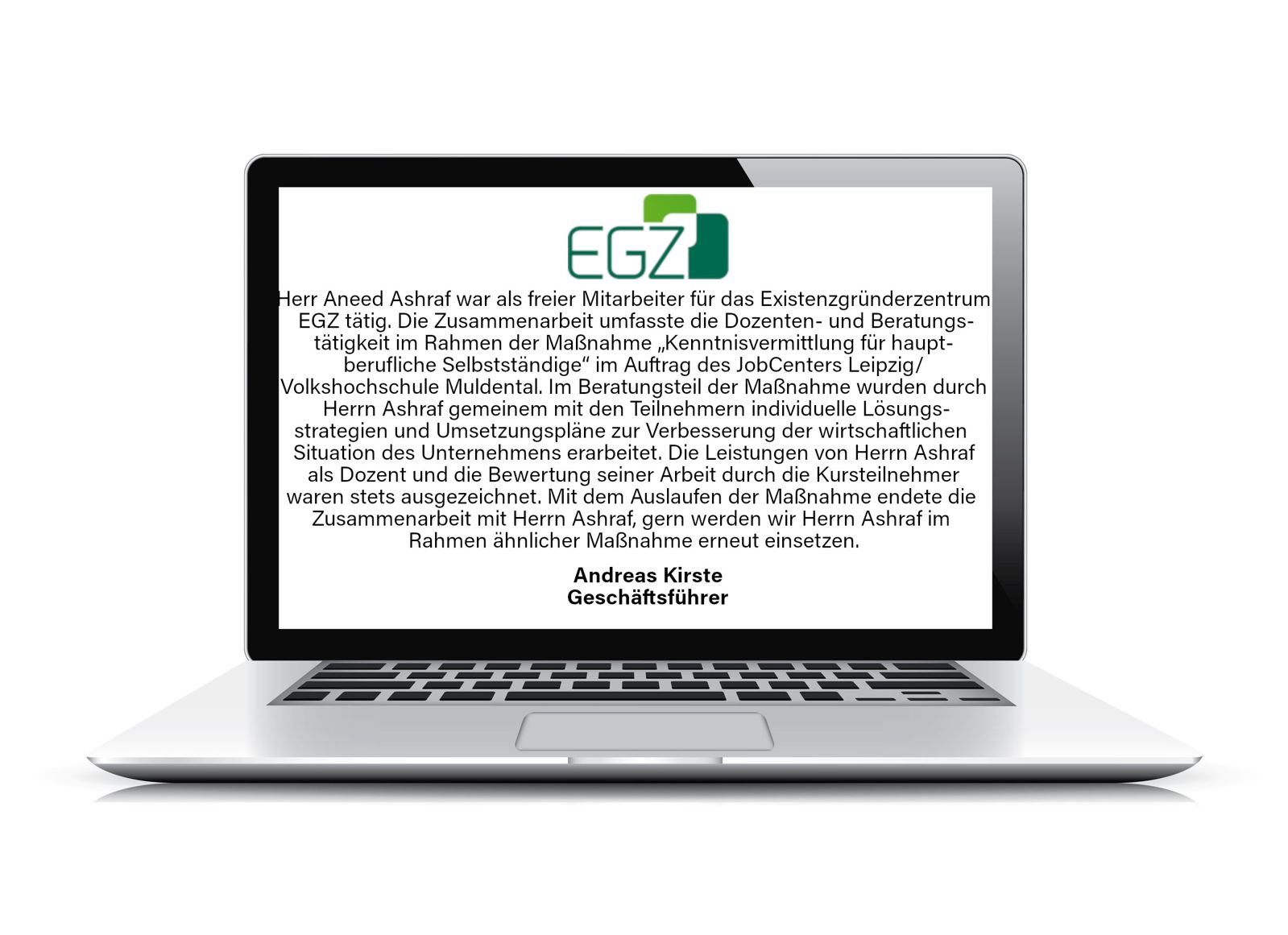 Mr. Aneed Ashraf worked as a freelancer for the business start-up center EGZ. The cooperation included the lecturer and consultant activities within the measure "Knowledge transfer for full-time self-employed" on behalf of JobCenters Leipzig / Volkshochschule Muldental. In the advisory part of the measure, Mr. Ashraf and the participants worked out individual solution strategies and implementation plans to improve the company's economic situation. The achievements of Mr. Ashraf as a lecturer and the evaluation of his work by the students were always excellent. Co-operation with Mr Ashraf ended with the expiry of the action and we will gladly re-launch Mr Ashraf as part of a similar action.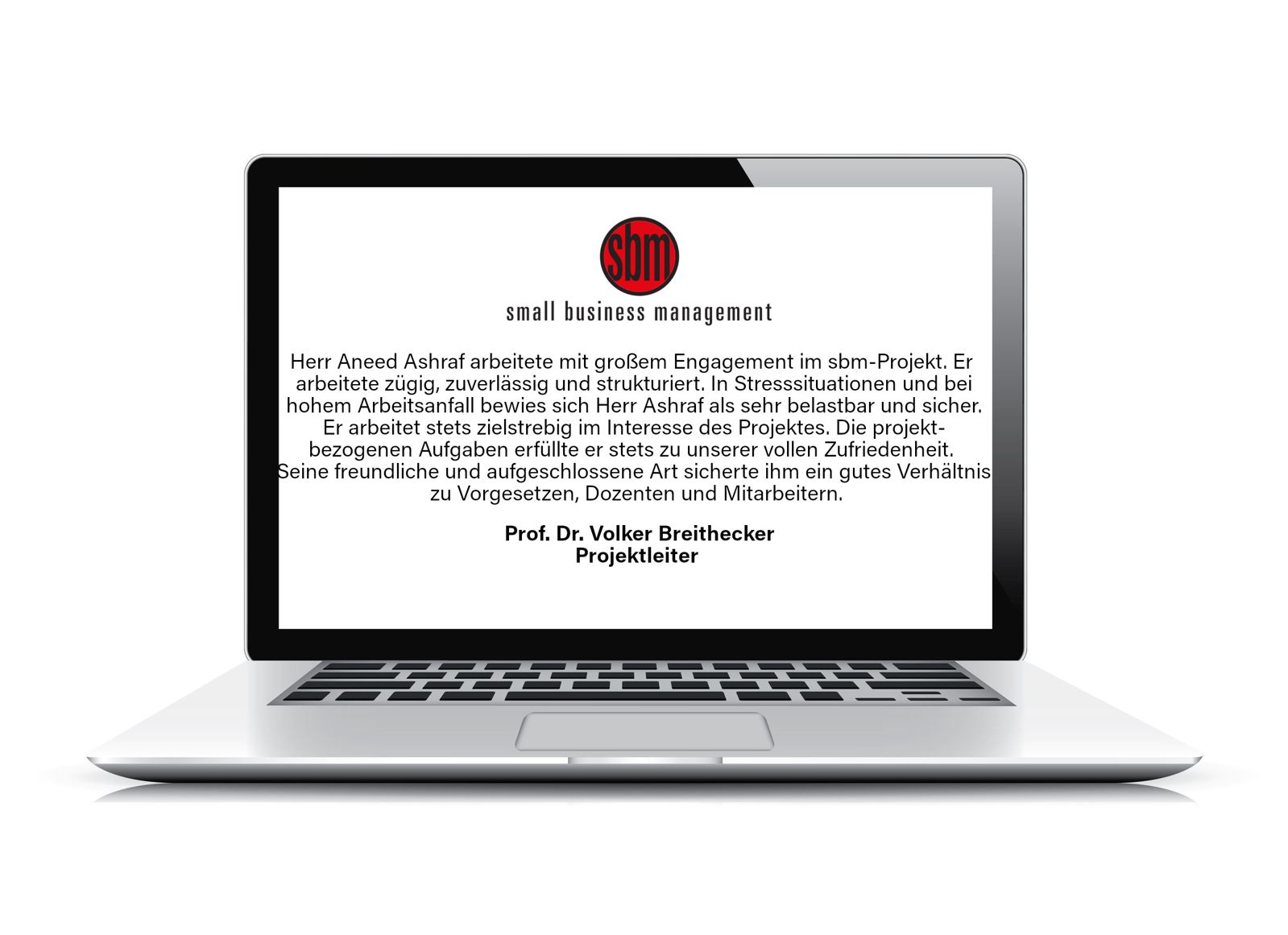 Mr. Aneed Ashraf worked with great commitment in the sbm project. He worked quickly, reliably and structured. In stress situations and high workload Mr Ashraf proved to be very resilient and secure. He always works purposefully in the interest of the project. He always fulfilled the project-related tasks to our full satisfaction. His friendly and open-minded manner ensured him a good relationship with superiors, lecturers and staff.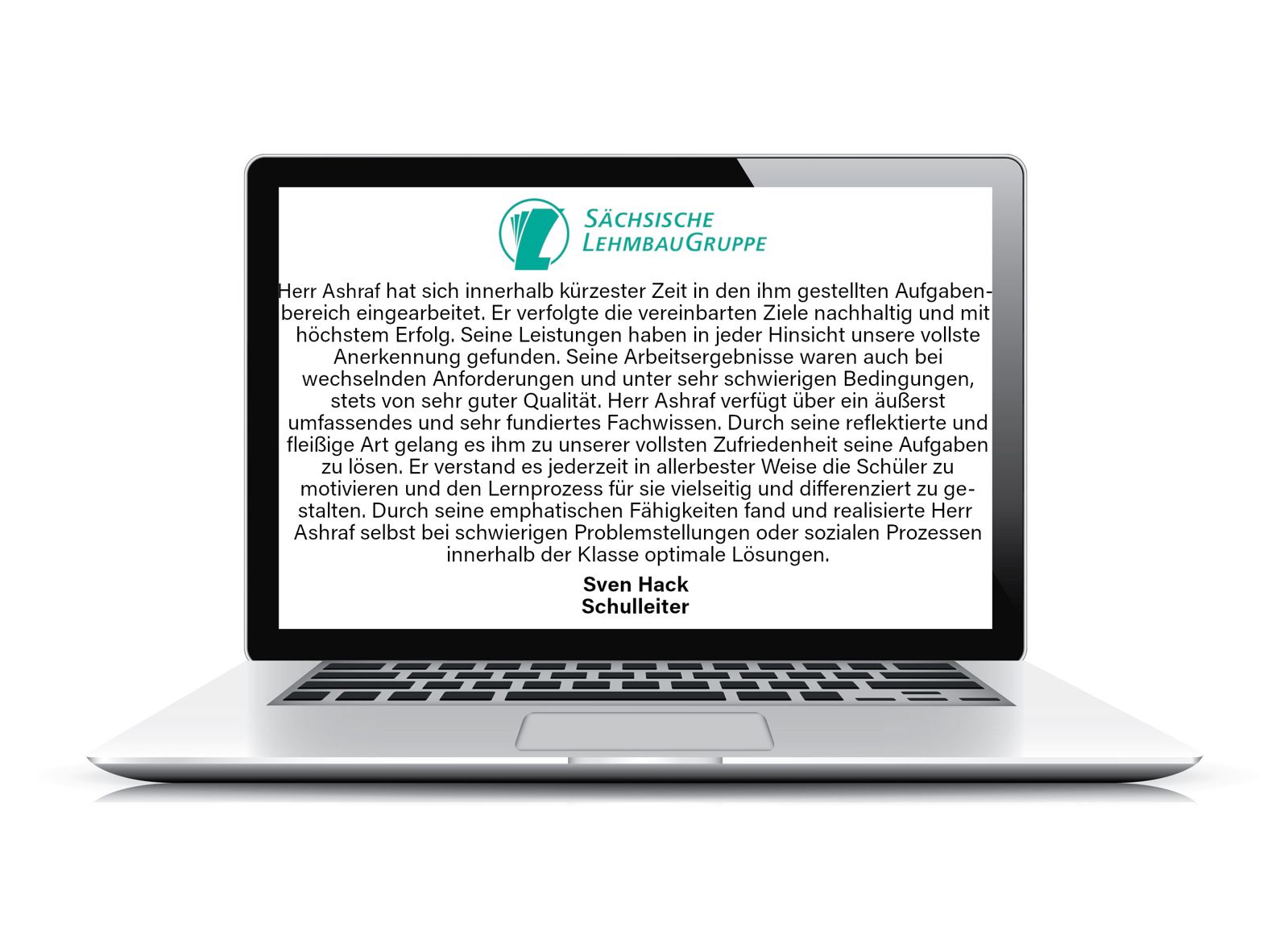 Mr. Ashraf has quickly become involved in the duties assigned to him. He pursued the agreed goals sustainably and with the greatest success. His achievements have been fully appreciated in every way. His work results were always of very good quality, even with changing requirements and under very difficult conditions. Mr. Ashraf has a very comprehensive and well-founded expertise. Through his reflective and diligent manner, he was able to solve his tasks to our utmost satisfaction. He always understood how to motivate students in the best possible way and to make the learning process more varied and differentiated for them. Through his emphatic skills, Mr. Ashraf found and achieved optimal solutions even for difficult problems or social processes within the class.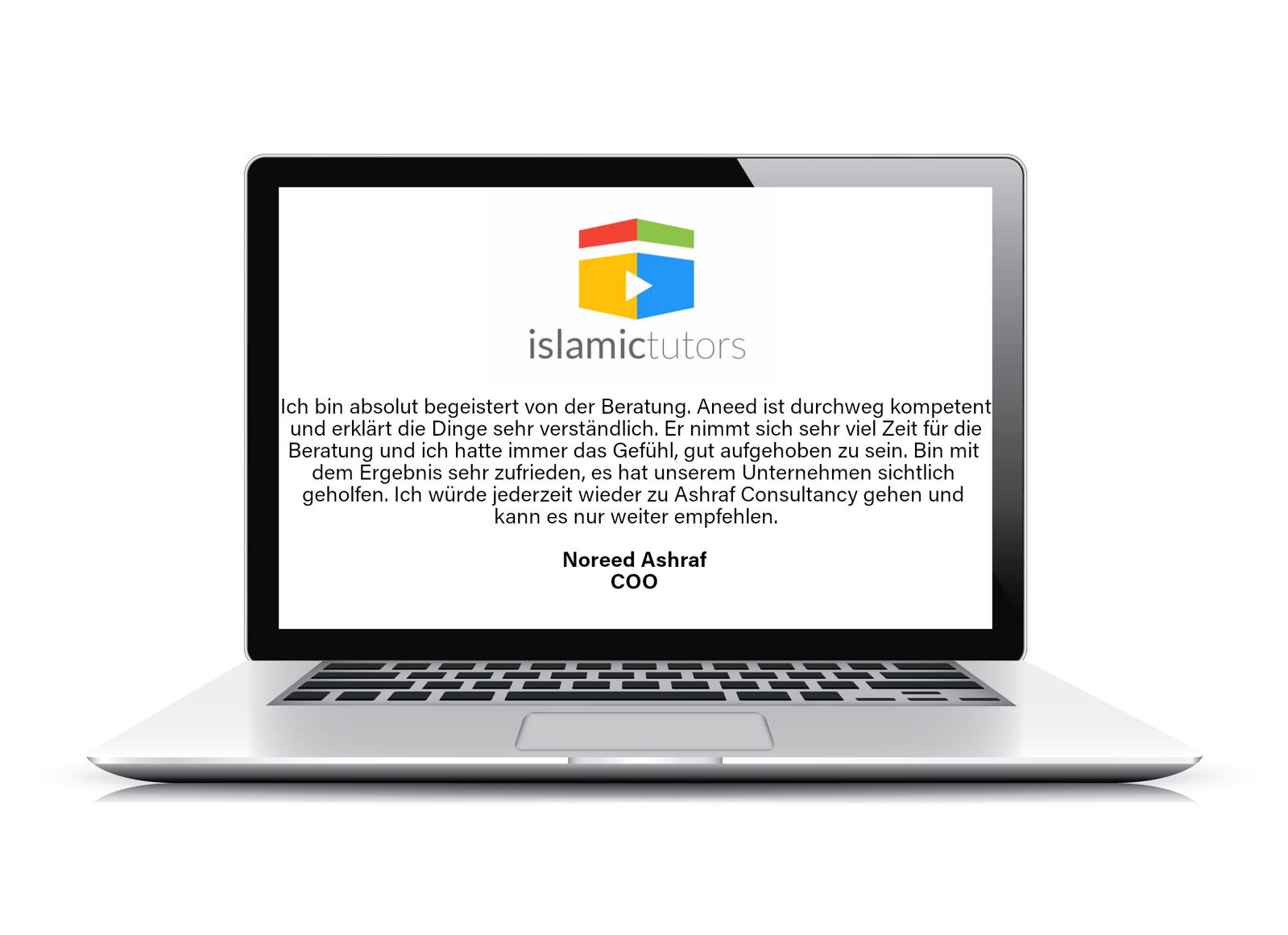 I am absolutely thrilled. Aneed is consistently competent and explains things very understandably. He takes a lot of time for the consulting and I always had the feeling of being in good hands. I am very satisfied with the result, it has helped our company. I would go back to Aneed anytime and can only recommend him.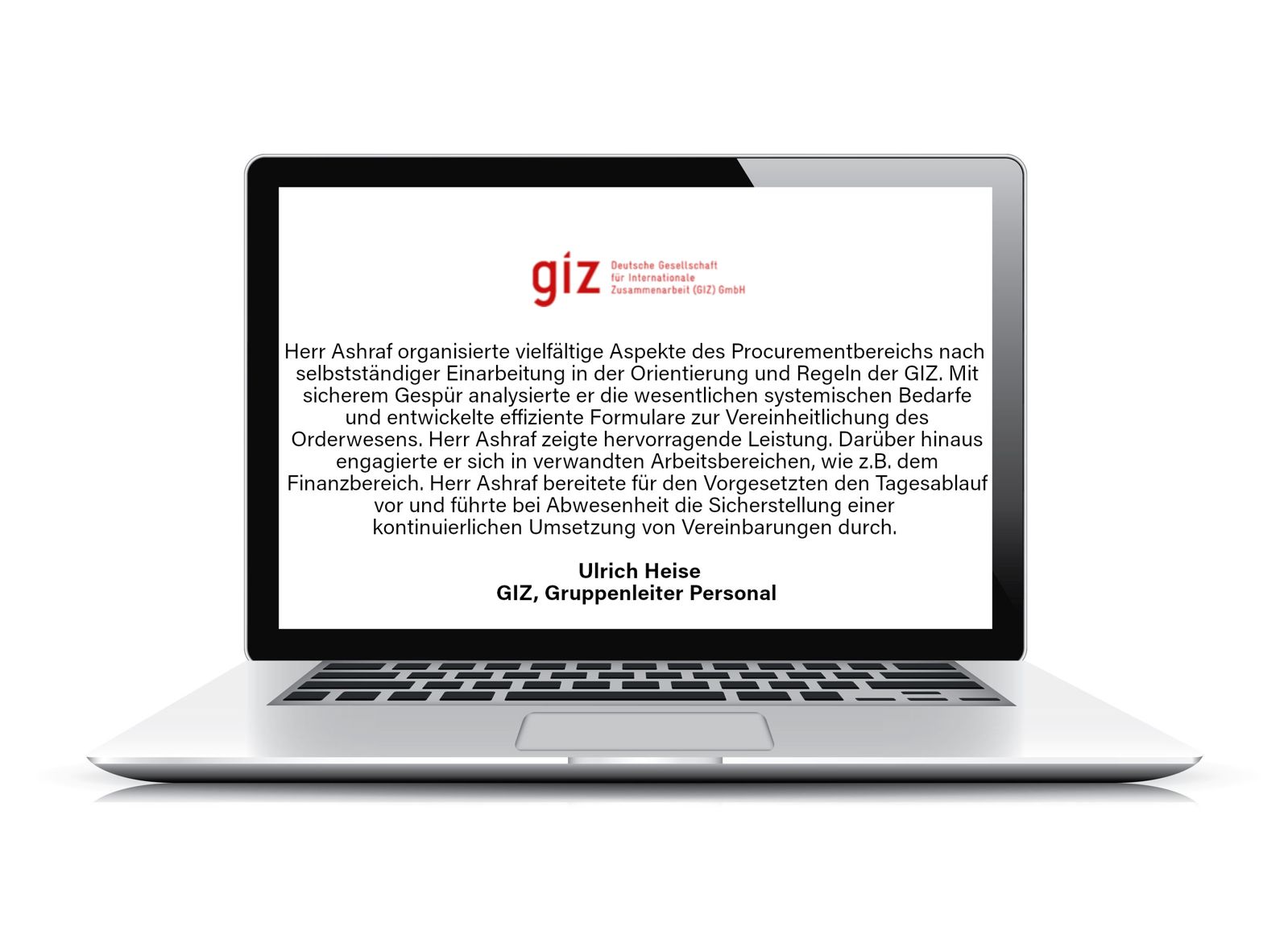 Mr. Ashraf organized a variety of aspects of the procurement area after self-contained familiarization with the orientation and rules of GIZ. With a keen sense, he analyzed the essential systemic requirements and developed efficient forms to standardize the order system. Mr. Ashraf showed excellent performance. In addition, he was involved in related work areas, such as the financial sector. Mr. Ashraf prepared the daily routine for the supervisor and, in his absence, also ensured the continued implementation of agreements.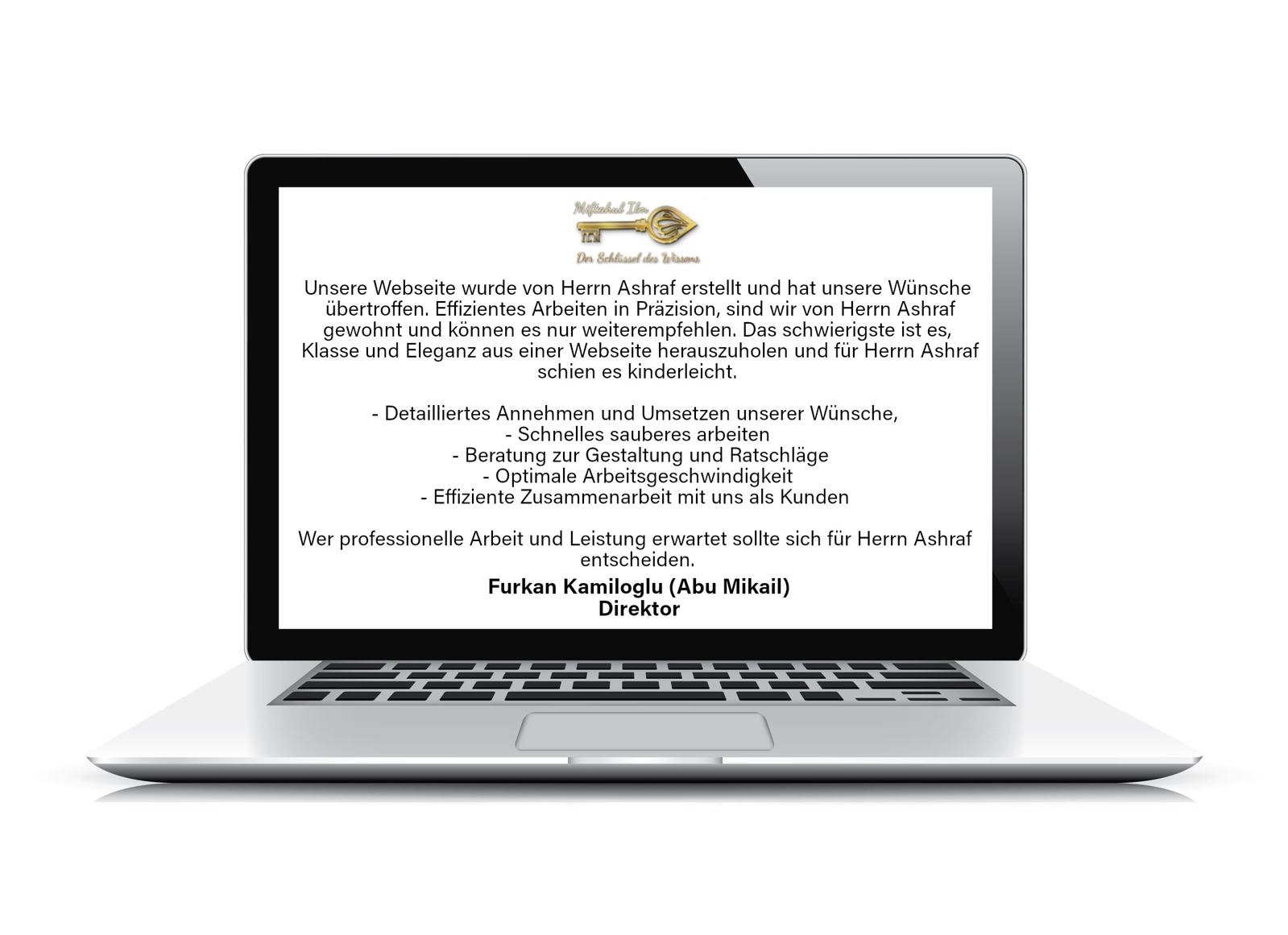 Our website was created by Mr. Ashraf and has exceeded our wishes. Efficient working in precision, we are used to Mr. Ashraf and can only recommend it. The hardest part is getting class and elegance out of a website, and for Mr. Ashraf it seemed a breeze. – Detailed acceptance and implementation of our wishes. – Fast clean working. – Consulting – Optimal working speed. – Efficient cooperation with us as customers and much more. Anyone who expects professional work and performance should choose Mr Ashraf.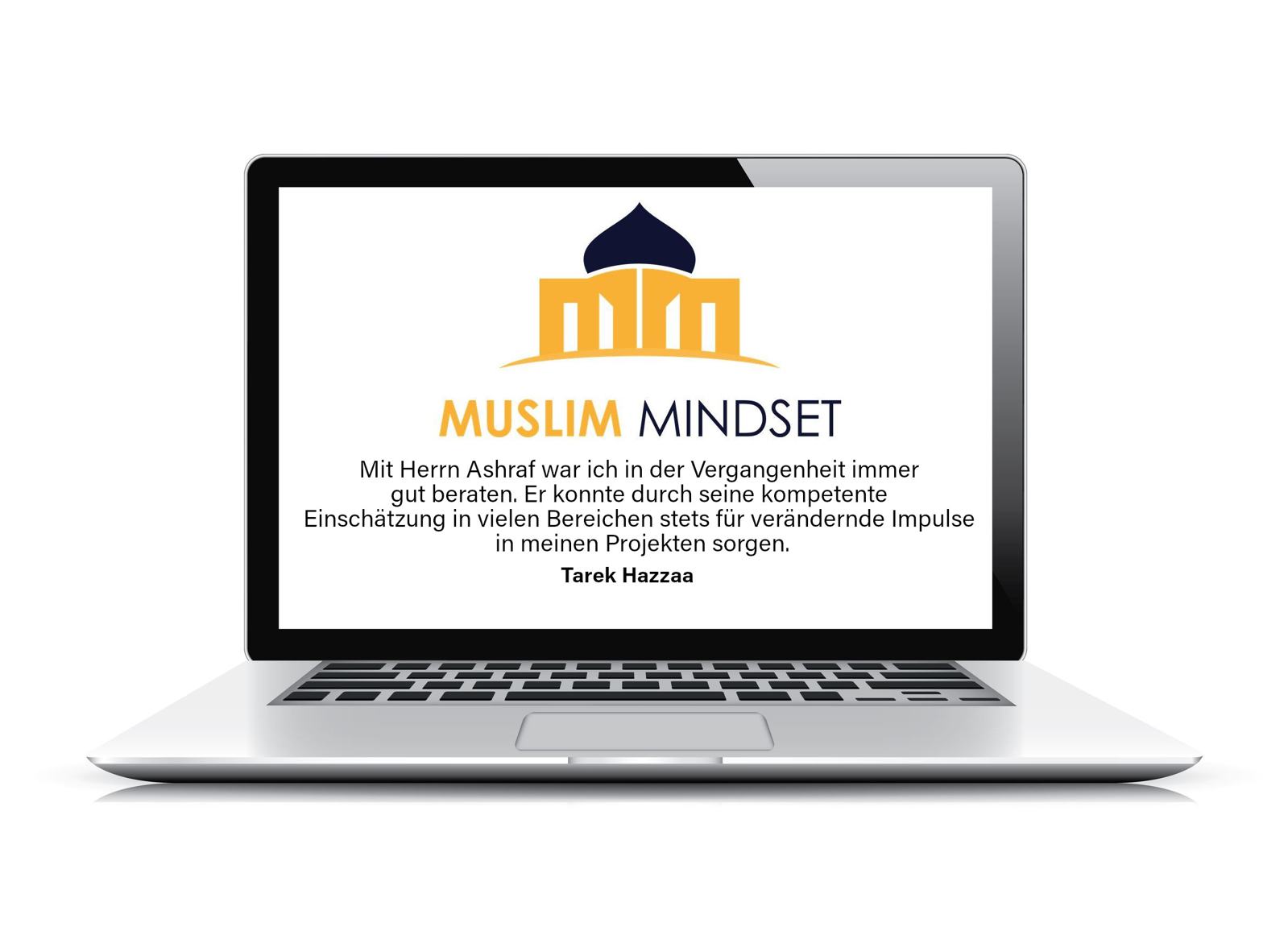 I have always been well advised with Mr Ashraf in the past. Through his competent assessment in many areas he was able to provide ever-changing impulses in my projects. Tarek Hazzaa muslimmindset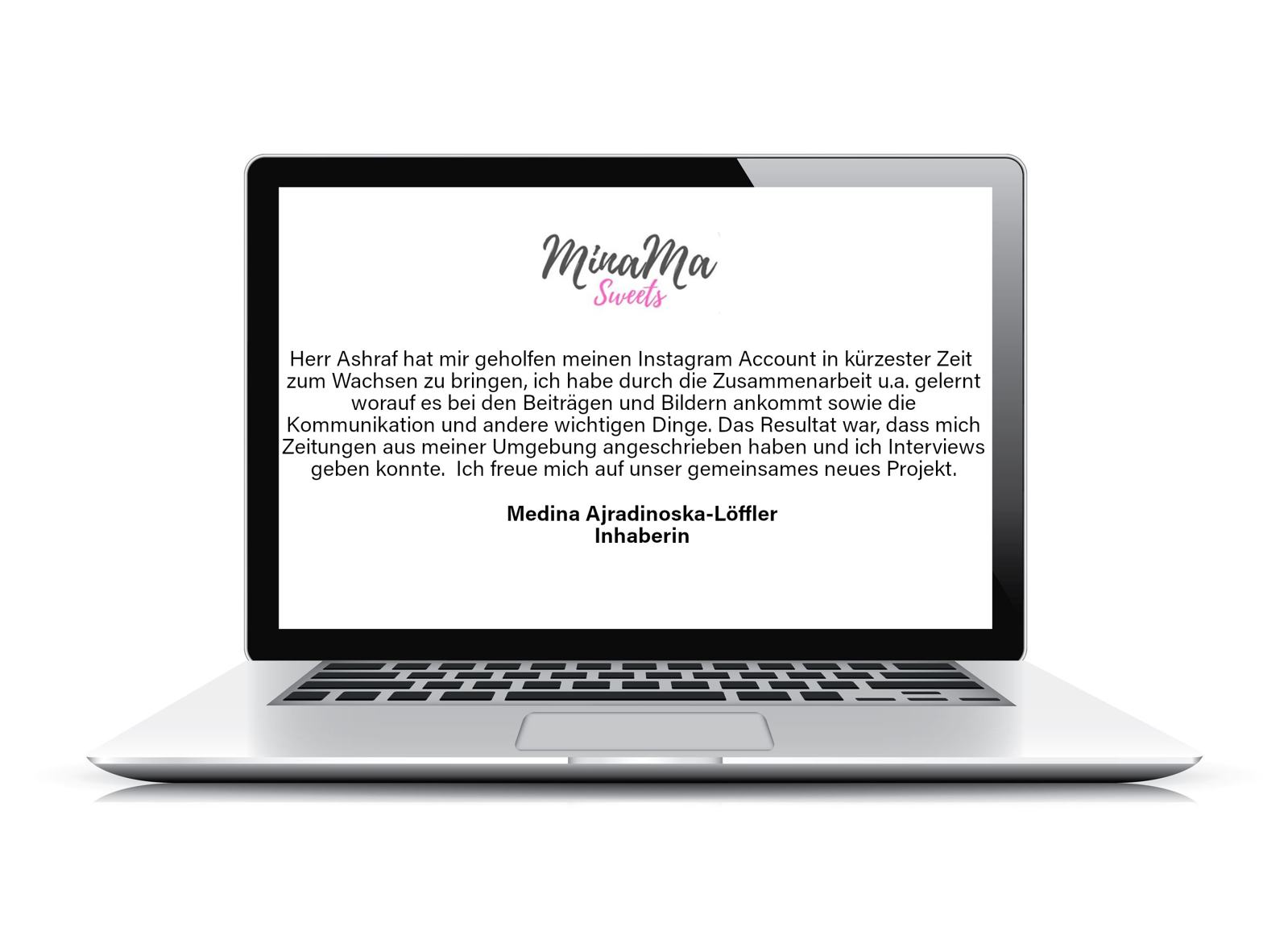 Mr. Ashraf helped me to get my Instagram account up and running in no time. I learned what is important in the contributions of images as well as the communication and other important things. The result was that newspapers from my area wrote to me and I could give them interviews. I am looking forward to our new project.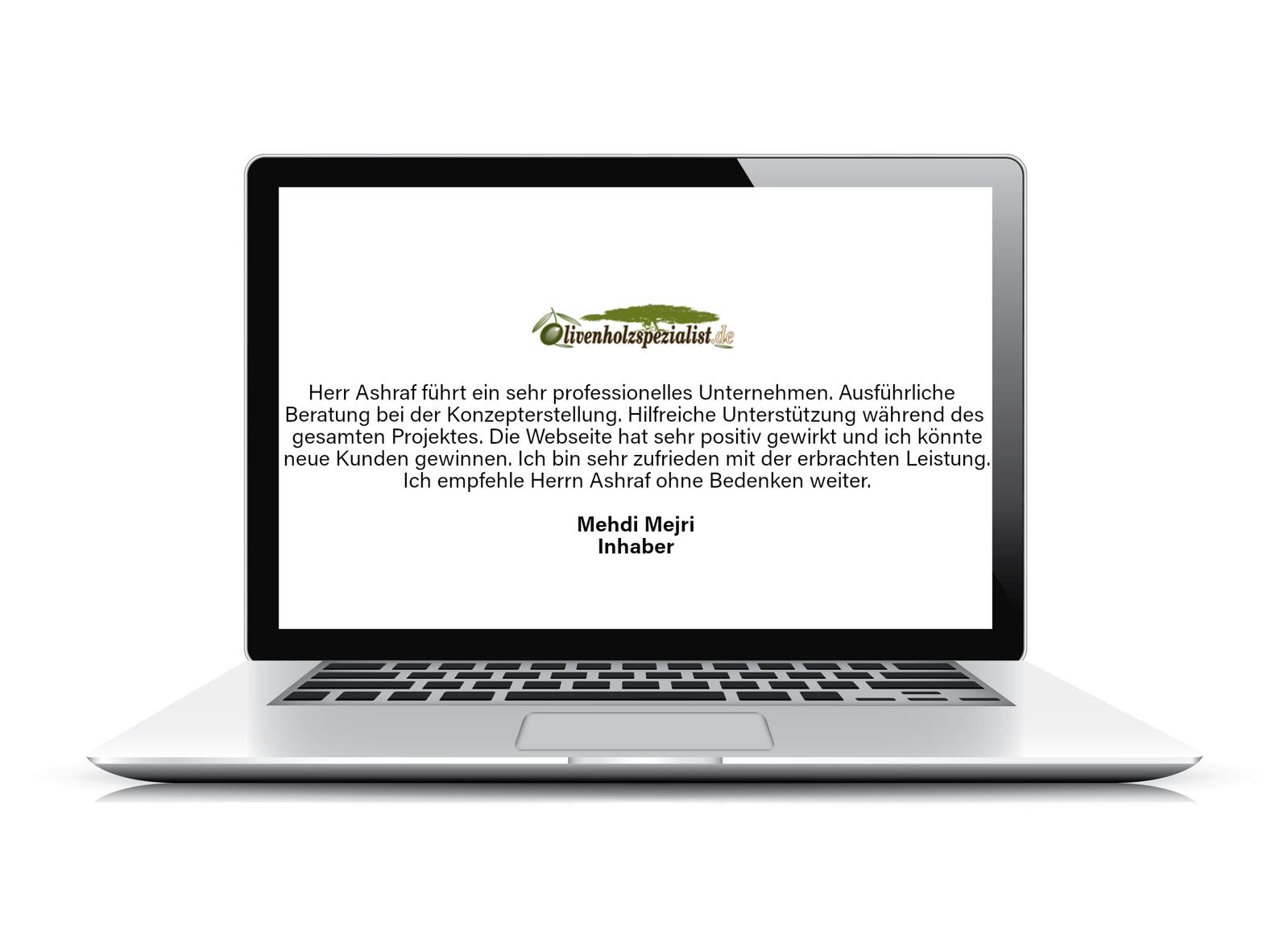 Mr. Ashraf leads a very professional company. Detailed consulting during the concept development. Helpful support throughout the project. The website has been very positive and I could win new customers. I am very satisfied with the service provided. I recommend Mr. Ashraf without any hesitation.
Do you have anymore questions? Write to me. I am looking forward to hearing from you.
Learn more